Techflow
Manufacturer of Digital Signage Solutions
Techflow
Design in Digital Signage
A brief history of our company
At Techflow we design and manufacture Digital Signage and kiosk solutions since 1999. Originated from an electrical and metalworking company with extensive know-how, we offer high-quality Digital Signage housings. They come in a large variety of different metal materials, finished compositions and fixings. In combination with the latest computer technology and 3D design, we are able to create a top of the range complete Digital Signage system. Indoor and outdoor, with or without a touch interface, slim and elegant displays with integrated powerful multimedia computers are eye-catching and will definitely attract people's attention.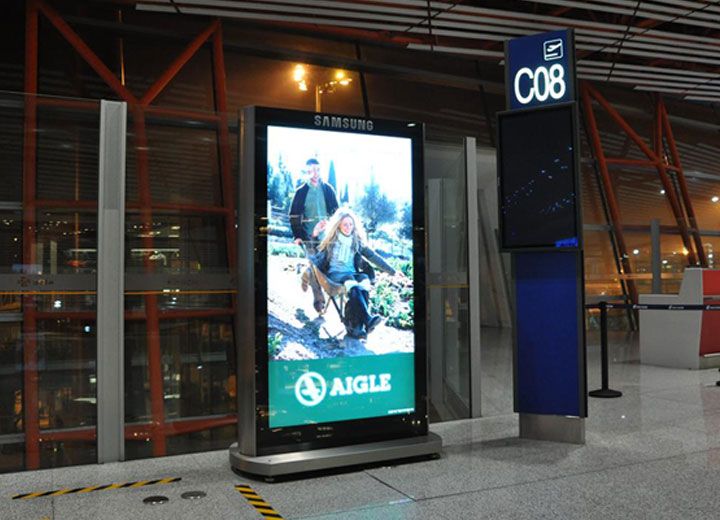 Products / Services
Techflow has a range of standard Digital Signage kiosks, in very different designs, for multiple applications. Indoor or outdoor, floor-standing, wall-mounted or ceiling-mounted, soft round lines or sleek angular finish, black, white or colored, portrait or landscape orientated, robust or elegant, large, extra-large or small, etc. Even without standards, our clients can choose from many possibilities. The chance to find that one special unit that exactly fits all requirements, is very likely. Adjustments to highlight a graphic brand or corporate appearance are technical additions that fit all of our kiosks. A company logo can be added to the design, even milled in the housing and provided with light. The unit can be furnished will all kinds of extras like a LED logo, webcam, kinetics sensor, card reader, printer, etc.
The advantage of a standard Digital Signage from Techflow is the outstanding quality versus very competitive prices. On top of this, a short delivery time is guaranteed.
Quality Standards
It is the responsibility of everyone at Techflow to provide only quality products and services to our customers. Techflow's goal is to always meet or exceed our customer's needs, requirements, and expectations. All employees in the factory have at least two years of working experience in the industry and all department heads have at least eight years of experience in their field. Each digital signage kiosk that leaves the factory has been tested for 48 hours.